Day Trips: Extended Sightseeing Tours in the Santa Fe Area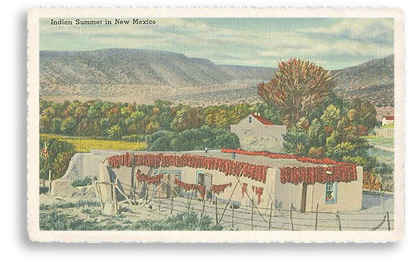 The Jemez Mountain Trail
From Santa Fe, follow US 84/285 north to the Pojoaque Pueblo, then NM 502 west toward Los Alamos. The first stop on this day trip is the San Ildefonso Pueblo which lies among a thick grove of cottonwood trees next to the Rio Grande (pictured right). This is a lovely sight, easily viewed from the highway, even if you opt not to make this stop.

From here, to your right, you will see the beautiful Black Mesa, one of the geographic highlights of the area. Across the river on NM 30 (heading toward Black Mesa) you will find the Santa Clara Pueblo. Both Pueblos are known for their fine pottery and you can meet the artists and sample their wares.

Continue on NM 502 toward Bandelier National Monument and Los Alamos. Along this highway is some of the most breathtaking and majestic scenery in Northern New Mexico–red rock formations tower over you on both sides, with warnings to watch out for falling rocks!

On this route you have another option: a stop at the lovely little town of White Rock. Continue past the NM 4 turnoff to Los Alamos and head into a forested area atop a mountain. Once in town, make sure you follow the directions (through a residential area) to the White Rock Overlook. Modest though the promotion of this sight may be, it is one of the most spectacular views to be had in New Mexico (we personally rate it a 10!). Come back to town and you can gas up and gather supplies at the local supermarket for a trip directly northeast to Bandelier (without having to return to the Los Alamos turnoff).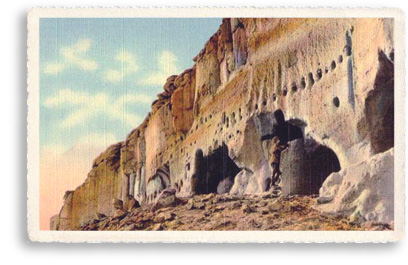 If you opt to go directly to the space-age city of Los Alamos, then take the NM 4 turnoff from NM 502 (before reaching White Rock). It was here that World War II's secret Manhattan Project developed the first atomic bombs. Although the city was closed to the public until 1957, it now welcomes visitors who wish to visit the Bradbury Science Museum. Los Alamos looks deceptively like an average modern medium-sized city, but the high-level security of the still-very-active Los Alamos National Laboratory will snap you back to the awareness that this not your everyday American community.

From Los Alamos, follow NM 4 into the Jemez Mountains, where you will emerge into the gentle meadows of the Valle Grande. This is one of the world's largest calderas, the collapsed crater of a three-million-year-old volcano. Exit along the Jemez River Canyon, noted for its waterfalls and sheer rock faces.

There are restaurants and services in the town of Jemez Springs and public soaking tubs at a Victorian-era bathhouse. The ancient Towa people called this area Giuseqa, or Place of the Boiling Waters. The ruins of their village can be found at Jemez State Monument.

Leave NM 4 when it dead ends into NM 44 at San Ysidro, then head south to the town of Bernalillo. From here, it's a quick return to Santa Fe on I-25. All together this is about a 160-mile round-trip that you are sure to enjoy!


Back to Day Trips